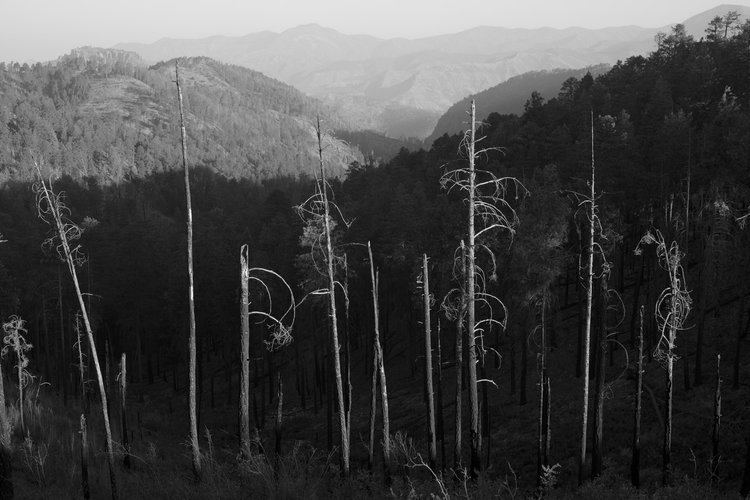 After the Fires
Gila River Festival
An in-person presentation with landscape photographer Michael Berman. $10 suggested donation at the door. No one turned away for lack of funds. This session will not be offered online.
For a century we did a damn fine job of putting fires out in the Gila. The problem was when we got good at putting out all the small fires, we set things up for very big fires. Some folks would like to tell you that everything went to hell in a handbasket up there.
If you want to see what happens after a fire, put on your boots, and head up pretty much anywhere in the Gila. Don't bother with the trails – many of them are gone or fizzle out anyway. Or you can grab a cup of coffee and come to the Silco for a little verbal ramble through the post-fire Gila Wilderness with photographer Michael Berman.
Michael P. Berman wanders the terrain of the American West and Mexico Norteno. He was awarded a Guggenheim Fellowship in 2008 to photograph the Chihuahuan Desert for "Trinity" the third book of a border trilogy with writer Charles Bowden. His most recent book, published by Museum of New Mexico Press, is "Perdido: Sierra San Luis". His photographs are included in the collections of the Metropolitan Museum of Art, the Amon Carter Museum and the Museum of New Mexico. He has received grants for environmental work from the McCune and Lannan Foundation. In 2013, he was honored with the Governor's Award for Excellence in the Arts in New Mexico. Michael as born in New York City in 1956 and now lives in the Silver City in Southwest New Mexico.