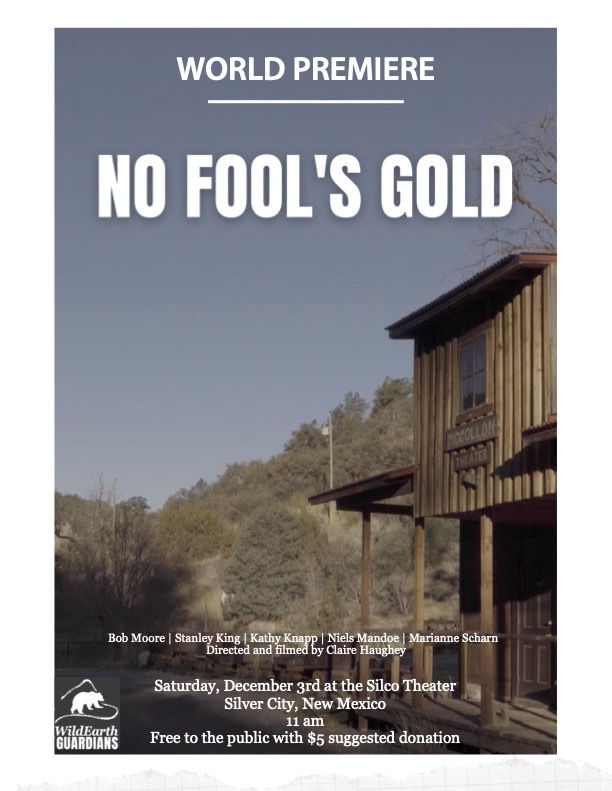 No Fools Gold
Guardians of the Greater Gila present No Fools Gold, a short film directed by Claire Haughey.

Deep in the heart of the Gila National Forest, on the edge of the country's first Wilderness, a
handful of residents carve out a remote, peaceful life amongst the relics of an abandoned gold
mining town. When a Canadian mining company surreptitiously starts exploratory drilling in their
backyard, it threatens not only the town's roads, watersheds, and livelihood, but also the
surrounding national forest, and the local population of Mexican spotted owls. With dogged
persistence and a willingness to put everything on the line to save their beloved home, the local
community mounts an opposition campaign to stop extractive appetites and destructive industry
from forever altering the town of Mogollon and its surrounding landscapes. Mogollon's
incomparable cast of characters who share an unwavering love of place serve as an important
reminder of why we must protect our public lands, now more than ever.
A community discussion will follow this 20 minute film.
Free to the public with a suggested donation of $5, which will go towards funding
New Mexico State University's Gila Film School, which is working to tell stories in celebration of
the Gila Wilderness' 100th birthday in 2024.