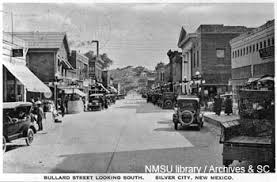 Silver City Museum and WILL Present: A Community Conversation – Plaza Publica: Gathering Places in Silver City
Plaza Publica – Gathering Places in Silver City on March 18 begins by exploring the places where people met in early Silver City – from pioneers' parlors and smoky taverns to ballrooms and opera houses and a cantina on Chihuahua Hill. Speaker Cathleen Norman discusses how people met for many reasons and purposes during the town's first decades and how this evolved in the twentieth century. Many critical issues and needs energized early residents, but gatherings took place purely for pleasure too.
We then take a look at how the "public square" has changed through the years. Most recently, community connection has shifted to online via social media, as well as face-to-face, bringing its own set of changes.
Panel discussion and audience voices delve into the "public square" theme further, with questions such as – where do people meet today in Silver City? How has it changed from earlier times, and why has it changed? How do these changes affect the community? What are new forums and trends?